The Most Incredible Truck Wreckers You'll Ever See
Welcome to our truck wreckers service; here at cash for van sydney's truck wrecker service, we specialise in providing a variety of top-quality truck dismantling, wrecking, and disposal services. No matter if you have small, mid, large, or commercial trucks, we have the expertise and equipment to handle every truck. However, we are known for various reasons besides truck wrecking; we have van removal, car removal, disposal, recycling etc. Our team is experienced professionals who strive to manage everything so customers can experience a hassle-free deal with us. Also, we offer cash up to $15,999 with free pickup. Isn't it a great deal? Get it today!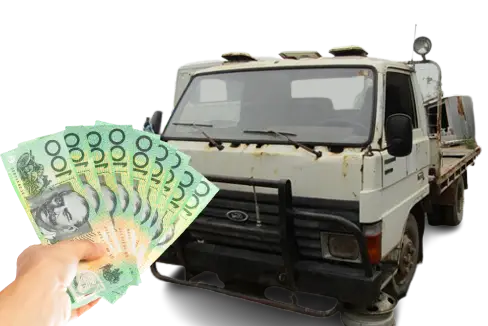 FAST & RELIABLE TRUCK WRECKERS SERVICES
We are known for fast & reliable truck wrecker services in sydney; whether you own a small, mid-size, or big truck, we are willing to provide our free car removal service. Our truck wreckers are performing the most efficient and safest method to make it fast. With more than 15 years of experience in this industry, we removed thousands of junk cars and customers' trust. Here are the services we offer Sydney-wide:
At Cash For Van Sydney's, we have a team of experienced technicians skilled at safely and efficiently truck wrecking of all makes and models regardless of the condition. We use state-of-the-art equipment to carefully remove all types of vehicles, which will be cleaned, inspected, and placed at our wrecking yards for further processing. Any remaining parts or materials are responsibly recycled or disposed of.
Scania, Mercedes Benz, SsangYong, Isuzu, Suzuki, Holden, Subaru, Honda, Isuzu, Hyundai, Daihatsu, Iveco, BMW, Lexus, Ford, Kia, General Motors, Lexus, Volkswagen, Mitsubishi, Mazda, Nissan, Skoda, Volvo, Suzuki, Toyota, Peugeot, MACK and so forth.
Get an Instant Solution to Dispose of Your Old Truck
When your truck is beyond repairs or loses hope of getting into better condition again, look no further than Cash For Van Sydney's truck wrecker, disposal, and dismantling service. We can help you to get rid of your car with our fast, reliable truck disposal services, including free towing Sydney-wide. Also, our professional team handles all necessary paperwork. 
In addition, our truck wrecker and disposal have wide service available Sydney-Wide that is fast & reliable. This is the reason we are in a position to assist people to get rid of vehicles that are damaged, broken or unrepairable. We'll pay you a top dollar amount of up to $15,999 while at the same time removing. This is why we are among the most well-known and reliable junk-truck buyers in entire Sydney. 
We're interested in purchasing any vehicle, regardless of its condition. Also, if the truck has been destroyed in an accident, or damaged in the event of a fire. We'll be able to buy it at the highest amount of money it deserves.
We offer cash for trucks, regardless of the condition, regardless of the make or model. We pay cash for trucks up to $15,999 with free pickup Sydney wide. Our truck wreckers are professional and experienced in handling any vehicle. You don't even worry about any rejection as we accept all types.
WHY CHOOSE OUR TRUCK WRECKERS SERVICE
Can save a lot of time as well as money.
Our team of experienced professionals ensure to take care of the entire process, from vehicle valuation to payment. Hassles aren't part of our services which is why each process is smooth and fast and requires minimal effort, time, and energy. Here are the benefits of getting scrap truck wrecker services-
INSTANT PAYMENT: We pay cash on the spot, no matter wherever you are in Sydney. So the customer can experience quick and easy cash payment for the truck. 
CONVENIENT & HASSLE-FREE: Our service is away from hassles, and to maintain our services conveniently, we come to your location to pick up your truck and save you from the hassle of arranging to tow. 
RESPONSIBLE DISPOSAL: With our team's skilful and qualified members, we follow all relevant environmental regulations to ensure that your truck is disposed of responsibly. The motive isn't just to dispose of in an environmentally friendly way but also recycling scrap trucks.
WIDE RANGE SERVICES: Dismantling, recycling, removing, and truck wrecking; we also buy cars, vans, SUVs, Utes, etc. We have a 
SYDNEY TRUCK WRECKERS SAVE YOU MONEY, ENERGY, AND TIME!
The struggles of having a truck that is no longer in working condition can be a hassle to find a solution that can be cost-effective and convenient. However, you have come to the right place!
At our Truck wreckers services, we are qualified in truck wrecking, dismantling and recycling. We are also saving you money, energy, and time in the entire process. We have dedicated people in our team who provide quality services and get you the highest possible price for your non-running or unwanted trucks.


In addition to the easy way of getting rid of your truck, we also help to reduce the environmental impact of disposing of various vehicles. By recycling various parts and materials from trucks, we use them for some good purposes. You no longer need to pay for constant repairs. Also, our team will complete every process for you, so your effort and time will be well-spent!
HOW IT WORKS - TRUCK WRECKERS
Can save a lot of time as well as money.
Truck wrecking is a time-taking process for anyone who needs to be aware of the vehicle removal businesses, especially Cash For Van Sydney. Our services are an effortless way for customers to sell their vehicles quickly and efficiently. You can count our truck wreckers' process in three steps, and here are-
FILL QUOTE– Fill in the Quote with the basic details and get to know the current valuation of your vehicle.
GET CASH – We will make an offer, and after your confirmation, we will come to your door after quickly inspecting your truck, and we will pay you instant cash in hand!
TRUCK REMOVAL– When we are done with every process, we remove trucks from your property.
If you want to sell a truck that no longer runs or is needed, don't hesitate to call us. We'll be happy to provide you with a free quote and take care of the rest. Call us today to get our truck wreckers' services!
Q. How can I sell my truck fast?
Ans. To sell your truck fast for cash, price it competitively, clean it well, advertise it online and offline, highlight its best features, be responsive to inquiries, and consider selling to a cash-for-car company.
Q. Who pays the most for selling your truck online?
Ans. The platform that pays the most for selling your truck online varies, but typically depends on factors like the truck's condition and the demand for similar vehicles in the area. It's important to research and compare fees across different platforms to ensure you get the best value for your sale.
Q. What is the best time of year to sell a pickup truck?
Ans. The best time to sell a pickup truck is during spring and summer months when there is high demand. However, timing may also depend on local climate, seasonal events, and the condition of the vehicle. However, you can get the reasonable amount for your truck through scrap truck buying companies or services. 
Q. Do trucks hold their value?
Ans. Trucks, like most vehicles, will experience depreciation over time, but they tend to hold their value better than other types of vehicles. This is due to their durability, versatility, and high demand in certain markets, such as construction. Factors that can influence a truck's resale value include its brand, model, age, condition, mileage, and market trends. Proper maintenance and care can also help preserve a truck's value over time.