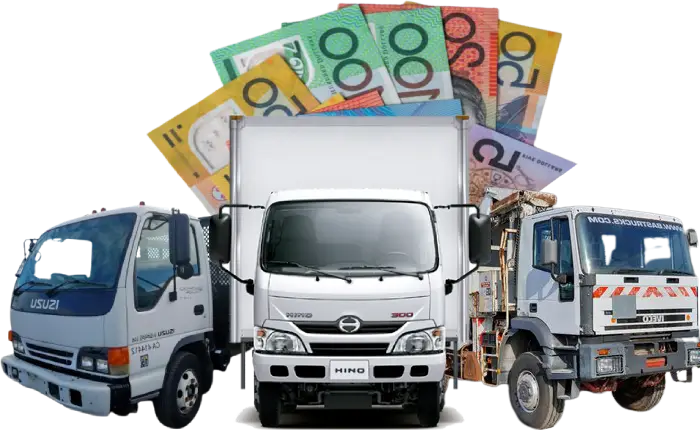 Get Highest Rate Cash for Old Trucks in Sydney Wide
Getting rid of a vehicle that is no longer in use and time-consuming, inconvenient, and costly to repair. But with "Cash For Van Sydney", you may make a lot of money for any vehicle without paying a dime. We pay cash up to $15999 for any heavy, lightweight, old, junk, and unwanted trucks. We strive to provide an hassle free client experience and guarantee that our pricing offer is far best than our competitors are.
Cash for Van Sydney specializes in old or scrap trucks and pays top cash for old trucks. It might be tough to get rid of an undesirable vehicle. Simply selling your old truck might free up space in your lawn or driveway. 
Getting in touch with Cash for Van Sydney can answer your difficulty in selling your unwanted truck.
Cash for Van Sydney is one of the top truck buyers' services providers. Unlike our competitors, our cash for truck rates is relatively competitive compared to the rest of the market.
We have a team of expert and experienced truck wreckers that wreck, recycle, and dispose of any hazardous components with extreme care. We promise that you will get top cash for old trucks.
The number one reason to choose us is that we pay up to $15,999 cash for old trucks and offer free removal service without any hidden charges in any suburb of Sydney. We buy your old car regardless of make, model, and condition.
We are fully insured and all of our experts are licensed and certified.
We will use the latest technology to tow trucks to maintain respect for the environment.
We tow trucks of all models, sizes, types, and capacities regardless of condition, age, and brand.
We offer same-day service and maintain the highest degree of transparency to make you 100% satisfied.
Cash for Van Sydney – One of the Top Truck Purchasers
Cash for Van Sydney is one of the top truck purchasers in Sydney, providing cash on the spot to anyone whose old car has been rendered useless due to age or accident damage with free towing services. We are extremely flexible with our truck wrecking services and will take any type of vehicle off your hands regardless of its condition!
Also, unlike other truck wreckers in Sydney wide, we will offer you the most competitive truck removal price out there. Give Us A Call Today!
How Do Our Cash for Old Trucks Quotes Work?
Here are 3 easy steps to sell your truck for cash instantly through our quote:
Step 1 – Contact us to get a free quote
Contact us today to get a free quote for your vintage truck. We are located in and around Sydney.
Step two: we arrive at your house
We offer competitive rates and will have one of our drivers delivered to your doorstep within 24 hours after you accept our offer after 
Step 3: Get paid and move the trash
Our wreckers team will take the truck on your behalf in exchange for cash, which is obtained on-site from our money changers at your convenience.
Why Should You Choose Us To Sell Your Truck?
One of the reasons so many sellers choose to sell their cars to Cash for Van Sydney is that we make the process quick and easy. There was a time when selling your vehicle was a time-consuming, months-long procedure and thanks to our Damaged Truck Removals firm where the procedure has been brought down to the minimum level. 
We have transformed the selling procedure, making it fast and efficient, so you do not have to spend time or money trying to sell your car.
1. Cash For Van Sydney Offers The Easiest Way To Sell Your Truck
Cash For Van Sydney is one of Australia's leading truck purchasers. We make cash offers on any condition vehicles and providing peace of mind to our customers that they are receiving a fair price.
Our wrecking services offer comprehensive parts recycling and disposal process, ensuring all hazardous parts are fully recycled and disposed within strict government regulations. Cash for van Sydney offers A Dependable cash offer on all conditions trucks & vans within 24Hours!
2. We Provide A Stress-Free Approach To Selling Your Truck.
Our Cash for old trucks also offer free truck removal services around Sydney wide. This means that you can now have your vehicle inspected, accept the cash offer, and have the truck collected and taken away from the comfort of your own home. You do not have to squander your evenings hauling the vehicle to us for inspection.
Contact us, and we will give you a fast price over the phone. If you accept our offer, we will send a tow truck to your house to pick up the vehicle straight out of your driveway! Also with us, you don't have to worry about paperwork. Just give us the ownership paper and rest of the work will be handle by our team.
How to Sell Your Old Truck in Sydney?
Our team of experts are here to help you sell your truck for an excellent price and get rid of your car in a matter of minutes. We will remove your vehicle free and pay you best price cash for old truck on the spot. 
The Benefits of Selling Your Old Trucks for Cash to Us
1. Get a Cash Quote Online
We would like you to supply us with all of your truck's details, including the brand, make, model, year, type, and condition. If you are happy with the quotation, you can book your free trucks removal Sydney service at any time that is suitable for you. We will be at your place as soon as possible!
2. Same-Day Truck Removal Is Available.
Cash for Van Sydney can assist you in getting rid of your old trucks for cash within a day. Our truck removal Sydney specialists will arrive on time and haul your vehicle away. You do not need to be concerned about loading or transportation. Our wreckers come with their tow trucks and equipment, taking the full cargo. It is a fast and straightforward operation. 
Our experts may dismantle all brands and types of vehicles. To make this procedure even easier for you, we organize all of the necessary papers and take care of the legal requirements. 
All you need to do is maintain your identity, proof of truck ownership, and truck title on hand before the scheduled truck pickup.
Cash For Old Trucks on the Spot
We will supply you with excellent services to sell your truck for cash and receive top dollar in hand. We will remove the vehicle away from your location and pay you the cash right immediately. We make the payment right away and do not charge any service fees. 
Do you have an old truck in your yard that you cannot seem to get rid of? We offer the most affordable option for you. You must not maintain an old truck on your property. It has the potential to emit harmful poisons and contaminate the environment. 
Furthermore, we are the most reputable vintage truck buyer in Sydney. Who pays top dollar cash for old trucks or vehicles of all kinds and types. You do not need to be concerned about the state of your unwanted trucks. 
All you have to do is call us, and we will take care of the rest. We will haul your vehicle away and pay you cash on the spot. If you need to sell your vehicle right now, Cash for Van Sydney is available!
If you're looking to sell your car or truck, we can help. Just call us at 0434649163 and tell us what type of truck you want to get rid of, how much cash you want in return, and we'll take care of everything else. Our friendly experts truck buyers will let you know how much cash they can offer you on your old van so there are no hidden surprises. You won't believe how fast our service is—usually within 24 hours or less!